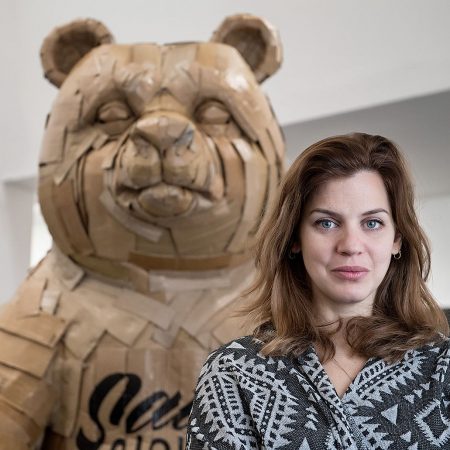 Classically trained Canadian fine artist Laurence Vallières is an innovator within the urban contemporary cannon. The genre, normally associated with spray paint and murals, gets a change of focus in Laurence's work where she creates easy to display and playful sculptural works made 100% in cardboard.
After completing an artist residency in Russia, she began to appropriate a street art influence in her work, and has since been warmly welcomed into the community of Urban Contemporary Art. Mainly using cardboard, she readily creates large works on the spot and travels internationally to do so. Her first stop in 2017, of her European tour was at Moniker Art Fair's 8 th edition in Shoreditch London as part of their installation room. Following the completion of the Moniker installation Laurence has travelled to Hull, UK City of Culture 2017, to create a major cardboard installation evoking the protective power of the collective, in the form of a family group, towards confronting the social inequality of homelessness via this commission by the Neil Hudgell Trust.see more
"As an artist, one's goal must be to express what is common and mundane in a way that makes it interesting and novel. To this end, I use animal imagery to symbolise and represent political issues and social behaviour. My work is greatly inspired by literature from the authors George Orwell and Art Spiegelman. The deft use of metaphor allows the sculpture to critique an issue or philosophy without explicitly stating the target of their anger. This use of metaphor gives Laurence's work the feel of a widely-circulated, savage inside joke. Similarly, she create art that maintains both visual appeal and an understated sense of humour." – Laurence Valleries.
After Hull Laurence had a week residency with her UK representatives, Art of Protest Gallery York before heading into to mainland Europe for a fair in Madrid and then home to Montreal.
The cardboard trophy heads have been a great hit in The Art of Protest Gallery, as well as her free standing sculptures. Both bring the sense of found object and protest together in a unique way.